ICEHOTEL & Treehotel Winter Shortbreak
RW0001
4 night itinerary in winter at the ICEHOTEL and Treehotel

Highlights/Inclusions
Deluxe Suite or Art Suite
Kaamos Hotel Room
2 nights in Treehotel room
3 classic activities
Final itinerary can of course be adjusted according to customer wishes, availability and logistical needs.
Itinerary at Icehotel includes:
Guided tour transfer from Kiruna airport to Icehotel

1 night Cold room - Art Suite or Deluxe suite (twin share) incl breakfast

1 night Kaamos hotel room (twin share) incl breakfast

Ice sculpting

Dogsledding tour
Itinerary at Treehotel includes:
Guided transfer from Icehotel to Treehotel

2 nights in a tree room

Snowmobile tour

Northern lights photo safari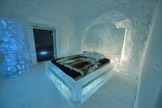 Day one
On arrival at the Kiruna airport and you will be met by the Icehotel guide and transferred the short drive to the Icehotel in Jukkasjärvi.
The
Icehotel
is Sweden's most iconic and famous hotel and located in the small village of Jukkasjärvi (blue flag in the map below) near the town of Kiruna. It is also the original hotel of its type (1989) and remains the very best due to the quality of its art, activities, size, facilities, food and service. The icehotel is not just a hotel made of snow and ice. It is by day one of Sweden's largest art galleries and a great percentage of its rooms are worthy of any gallery in the world. The hotel also boasts two types of warm 2 bedrooms cabins as well as hotel rooms. Traditionally the hotels 400 tons of ice melt back into the Torne River each spring, However, In 2017 the Icehotel went to a new level of innovation and 21 of its rooms are now available all year round making a visit to Swedish Lapland in Summer and Autumn even more spectacular. This development also added Deluxe suites that have their own large warm bathroom attached. Perfect for those who like a little extra comfort.

Here you will check in for your first night in a warm Kaamos hotel room. This includes being fitted for your warm winter outer clothing, boots, hat and gloves. Dinner tonight will be the Ice menu in the Icehotel restaurant. We recommend a drink in the Ice bar by Icehotel after dinner while you wait for the northern lights to appear.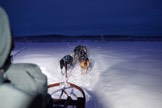 Day two
In the morning take an intense course in ice sculpting, a must when you ́re at ICEHOTEL. The class starts with the instructor talking about the crystal clear ice, which is harvested from Torne River. After that, you get an introduction on how to use the tools, your own ice block and can let the creativity flow and ice take shape.
In the afternoon experience the beautiful winter wonderland from the dog sled. This is a perfect activity for groups, couples and families or you who want a calm and cozy tour. On this tour you ride as a passenger in the sled and experience the dogs tremendous desire to run and pull. Your stop along the way for wilderness coffee and cake, served by an open fire.

This afternoon you will retire to your cold room ice suite. An amazing experience sleeping at -5 in your warm sleeping bag on a very comfortable bed.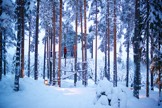 Day three
This morning you will will be met by our guide and after they move your luggage to the private vehicle we will take a guided transfer to the
Treehotel
. This is a 3 hour drive but will take about 3,5 hours as we stop to enjoy sightseeing along the way.
The
Treehotel
offers you a unique hotel experience: tree-rooms with contemporary design in the middle of unspoiled nature. Here you can forget about the time constraints of everyday life, enjoy the serenity and rejuvenate in a sophisticated yet familiar environment.
Treehotel is located in Harads, about 70 km from Luleå Airport and 40 km upstream from Boden. The village has a population of about 600 people and features a restaurant, shop and a guesthouse.
When you arrive at Treehotel, you first check in at the Treehotel Guesthouse. Then it's a short stroll through the beautiful nature to your tree-room. From Treehotel's rooms you get a fantastic view of the Lule River Valley, miles of forest and the powerful river. Breakfast is included in the room price and along with other meals they are available at the guesthouse.
Britta and Kent, the owners of Treehotel, have built a modern hotel with the best of Swedish style and design. They are also known for their warm and cosy atmosphere, their hospitality and most importantly the glorious gourmet meals.
On arrival at the Treehotel your transfer guide will introduce you the team at the Treehotel and help you settle in to enjoy their fantastic service.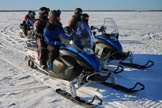 Day four
Today you will try snowmobiling. Riding a snowmobile through a beautiful winter landscape is a liberating feeling, just like riding a motorbike. If you haven't tried it, its a must. If you have your going to want to do it again.
Tonight you will join the guide on a Northern Lights spotting and photography tour. Your guide will give you plenty of great tips on how to photograph the northern lights.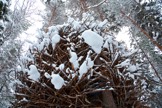 Day five
Depending on your time of departure you will have part of this morning to relax and enjoy the winter and ambience at Treehotel before we transfer you back to the Luleå airport.