Gourmet Small Cosy Winter Arctic Lodges
Small Cosy Lodges
- Arctic Retreat, Arctic Gourmet Cabin
- 4 nights
- Arctic Train across the arctic circle
- Full board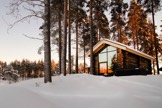 Day oneArctic Retreat
After arrival at Luleå airport your guide will will take you on a tour the approximately one hour to Arctic Retreat. Here the owning family will take great care of you as you check into one of their 3 fabulous log cabins. Arctic Retreat is located in a beautiful location on the edge of the Råne river deep in the tranquil Swedish Lapland forest.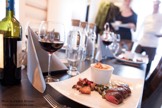 Day two
On day two your host will be with you for an easy daily one hour activity around and outdoor lunch and there are options for many more including dogsledding, snowmobiling, Sami culture, Skiing and Snowshoeing.
Instant coffee and tea making facilities are available in the cabins. Each Cabin has a refrigerator with included light snacks and drinks. Food will be high-end local cuisine and prepared according to the season and activities on the day. This will be a mix of outdoor cooking and in the kitchen. The chef will prepare the meals for the guests for breakfast lunch and dinner. Pricing is on a full board basis. That is, breakfast, lunch and a 3-course dinner will be available and is included in the price. Restaurant has a licensed bar. We supply winter clothing which will be included in the cost of stay.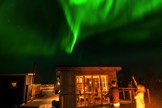 Day three
Today we will transfer you to the nearby Boden Train station where you will catch the train from Boden to Kiruna. On the way you will be able to observe the beautiful winter arctic scenery and you will cross the Arctic Circle. Your hosts at
Arctic Gourmet Cabin
will pick you up from the Kiruna train station before checking in to this amazing small lodge with only two cosy cabins.
Acommodation in cosy cabins, gourmet food and great chance of catching the Aurora borealis- can't get any better.
Arctic Gourmet Cabin is located 20 minutes drive from Kiruna towards Nikkaluokta. They have two cabins hosting two persons each and a small restaurant with four seats. In connection to the cabins you find a service building with toilet, shower sauna and our Aurora outdoor spa. The cabins are furnished with a double bed and armchairs. They also have a kettle for hot beverages. The restaurant of nine square meters houses a fully equipped restaurant kitchen and have two tables with four seats. This is where breakfast, lunch and dinner is served.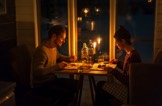 Day four
There is a range of great activities at Arctic Gourmet Cabin but the high light is the restaurant where your host / owner Johan will be your chef in their 4 person restaurant.
Our tiny restaurant have four seats, perhaps it's the worlds smallest keeping also a restaurant kitchen on it's nine square meters.

Here is where breakfast is served, and in the evening it's possible having Johan cook you a delicious dinner while you're watching. If lucky you might also have a good view of the Aurora borealis just above you. We offer dinner menues based on local specialitys like reindeer, moose, ptarmigan, arctic char and whitefish. The exact menu varies from day to day with the seasons.
Berries are picked in the forest just a short walk from the cabins and our heart beat a little extra for local suppliers of meat and fish and we prefer the organic option if there is a choice. Shortly we love great food!To go with the food we offer a well selected range of beverages- local produced beer as well as wines and soft drinks.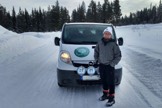 Day five
Your hosts at Arctic Gourmet Cabin will transfer you to the Kiruna airport for your flight home.