ICEHOTEL Winter Shortbreak
3 night itinerary in winter at the ICEHOTEL

Highlights/Inclusions
Full Board (except for one a la carte dinner which is at customers own cost)
Deluxe Suite or Art Suite
Kaamos Hotel Room
4 classic activities
Final itinerary can of course be adjusted according to customer wishes, availability and logistical needs.
Itinerary at Icehotel includes:

Guided tour transfer from Kiruna airport to Icehotel

1 night Cold room - Art Suite or Deluxe suite (twin share) incl breakfast

2 nights Kaamos hotel room (twin share) incl breakfast

Ice sculpting

Wilderness dinner experience

Drive your own dogsled

Northern Lights Safari on a Snowmobile

Ice menu dinner

2 lunches in the icehotel restaurant

Winter clothing (

see also our information on winter clothing

)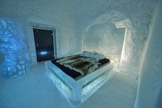 Day one
Arrive at the Kiruna airport and you will be transferred to the Icehotel in Jukkasjärvi. Here you will check in for your first of two nights in a warm Kaamos hotel room. This includes being fitted for your warm winter outer clothing, boots, hat and gloves. Dinner tonight will be the Ice menu in the Icehotel restaurant. We recommend a drink in the Icebar by Icehotel after dinner while you wait for the northern lights to appear.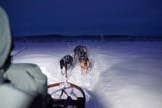 Day two
You will enjoy the fun of a 1.5 hour dogsledding adventure during the day and then the wilderness dinner experience in the evening. Enjoy a three-course wilderness dinner inspired by the current season. Taste the season on this delicious dinner experience in the woodlands. You head out to a secluded wilderness camp in a minibus, together with a guide. The northernmost part of Sweden has eight seasons, each with its own characteristics, which inspires the exclusive three-course wilderness dinner made and served by your guide. Enjoy the wonderful flavours of the current season from northern lights in the fall and winter to the midnight sun in the summer. Afterwards retire to your second night in your Kaamos hotel room.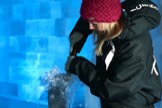 Day three
Today we have planned for an ice sculpting activity during the morning and then the snowmobile safari in the afternoon. Dinner this evening can be booked at the Icehotel restaurant or the old homestead restaurant and short walk from the icehotel. This evening you will spend the night in either your Art Suite or Deluxe Suite. This amazing experience at -5 degrees will be a memory for life.
Day four
Depending on your time of departure you will have part of this morning to relax and enjoy the winter before we transfer you back to the Kiruna airport.