Coast to Mountains - Aurora & Sami Culture Experience
-
Treehotel
,
Sapmi Nature Camp
,
Icehotel
- 6 nights
- Full board
This itinerary has a focus on the best places for northern lights and northern lights activities most evenings. We have of course included the Icehotel as we think this is a must do winter experience in Swedish Lapland.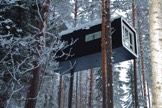 Day one
Your tour operator will arrange for you to fly north from Stockholm to the town of Luleå just south of the arctic circle. Here your hosts will meet you and fit you out with winter clothing and take you on a private guided tour to the fabulous Treehotel in one of their luxury vehicles. On the way we will visit the World Heritage Gammelstad Church village dating back to the 14th century and your hosts will give you a perfect introduction to the region.
On arrival at the Treehotel your transfer guide will introduce you the team at the Treehotel and help you settle in to enjoy their fantastic service.


The
Treehotel
offers you a unique hotel experience: tree-rooms with contemporary design in the middle of unspoiled nature. Here you can forget about the time constraints of everyday life, enjoy the serenity and rejuvenate in a sophisticated yet familiar environment. Treehotel is located in Harads, about 70 km from Luleå Airport. The village has a population of about 600 people and features a restaurant, shop and a guesthouse.
When you arrive at Treehotel, you first check in at the Guesthouse. Then it's a short stroll through the beautiful nature to your tree-room. From Treehotel's rooms you get a fantastic view of the Lule River Valley, miles of forest and the powerful river. Breakfast is included in the room price and along with other meals they are available at the Guesthouse. Britta and Kent, the owners of Treehotel, have built a modern hotel with the best of Swedish style and design. They are also known for their warm and cosy atmosphere, their hospitality and most importantly the glorious cuisine.

We have chosen the 7
th
room for this exclusive experience but other room options are of course available.Dinner are available at the Treehotel Restaurant. Tonight you will join the guide on a Northern Lights spotting tour by snowmobile and sled. Your guide will give you plenty of great tips on how to photograph the night sky and hopefully the northern lights.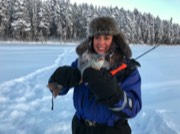 Day two
After breakfast, your guide will meet you for the days first activity. Ice-fishing in one of the local streams or lakes. This will take 2-3 hours and with luck you will not only learn a fantastic new skill but hopefully be able to take home a trout for dinner.

In the afternoon we have booked a private sauna and Jacuzzi for you to relax and enjoy. Your second night will again be spent in the Tree-room of your choice. Lunch and dinner are available at the Treehotel Restaurant.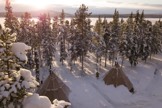 Day three
Our transfer guide will pick you up from Treehotel at approximately 0930 for the 3 hour train and car transfer to Sapmi Nature Camp. You will arrive mid-afternoon and send the rest of the stay settling in and getting to know Lennart our Sami host and moving in to one of three Teepee tents. This stay is full board with 2 dinners, 1 lunch and 2 breakfasts.
Sápmi Nature Camp is a newly opened, high-end, sustainable and small-scale camp that offers high quality, close to nature accommodation on the border of Laponia World Heritage Area.
In 1996, Laponia was inscribed on the World Heritage List by the UN body UNESCO. That means the area is important for the whole world to care for and protect. Its selection is based on the combination of unique nature and the cultural values present in Laponia. The area bears traces of the Earth's early history but also of mankind's. The landscape has been formed in interaction with a living Sámi tradition where reindeer herding has been pursued for a long time.

The camp consists of newly built 'double' rooms in the form of lavvu tents (that looks like a tepee) furnished with comfortable double beds, stoves and cosy furnishings inspired by nature and the Sami culture. The base experience includes accommodation and full board and the guests then choose the nature of the activities they would like to enjoy.
Sápmi Nature Camp is operated by Lennart Pittja who grew up in a reindeer herding family here in Unna Tjerusj Sami community. This is grazing land that has been used by Unna Tjerusj for thousands of years. Sápmi Nature is committed to responsible tourism that does not threaten the reindeer and the herding here, but instead we want to share our knowledge about Sami life – both past and present.
Because this is a small-scale, sustainable business, it is only between 2-10 guests here at the same time. This is far from a large-scale resort or impersonal mass tourism. It is personal, comfortable and convenient Sámi experience and you have the chance to really learn about the Sami culture.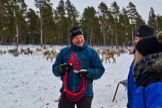 Day four

Today
we will take a rare excursion into the daily life of reindeer herding.
Lennart's brother Kenneth has the main responsibility for the day to day reindeer herding and one of the popular activities at the camp is to take a drive to the location of the reindeer herd where we find Kenneth and his family.

Kenneth's family including sons and daughter spend their year taking care of the reindeer and depending on the time of year and even the day you visit. The form the experience takes will therefore always be unique. On meeting Kenneth, you will really enjoy his fun and laid back approach but keep in mind they are welcoming you into their workplace on a normal working day. During your visit they will take you through the year and seasons in Sapmi and how the changing world and climate is affecting their life.

Dinner each evening comes from the nature and are most often foraged, hunted or fished by Lennart himself. Local meats such as Moose or Reindeer and fish such as trout or arctic char are commonly on the menu and are complemented with local berries, herbs and vegetables.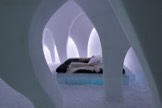 Day five
Waking to a new day by the Luleå river and after enjoying breakfast we will transfer to the Icehotel on a 3 hour road and train journey. Here you will check in for your first night in a warm Kaamos hotel room (and the second in an Art Suite or Deluxe Suite). This evening we have arranged a northern lights snowmobile safari. The best place to see it is in the wilderness, away from artificial light and the snowmobile is a great way to get around. Our guide explains how the northern lights appear, what causes it and the folklore around the phenomenon. We will be making a few stops to take pictures, so bring your camera! A cosy dinner at a wilderness camp is included.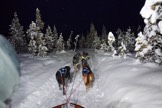 Day Six
Today we will have arranged for you a fantastic dogsledding experience. This 90-minute tour is perfect for novices. You ride as a passenger in the sled and experience the dogs tremendous desire to run and pull as you travel through the beautiful landscape of northern Lapland. Tonight we have arranged dinner in the hotel restaurant where you will experience their amazing 5 course ice menu. After dinner you can walk down to the river and relax and look for the northern lights before retiring to your Deluxe Art suite.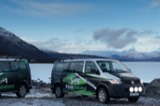 Day Seven
Depending on your time of departure you will have part of this morning to relax and enjoy the lodge before we unfortunately bid you a fond farewell. Your transfer will be arranged at a suitable time to take you to the Kiruna airport or train station for your journey home.