Aurora Coast to Mountains - Autumn Northern Lights Safari - 6 nights
- Brändön Lodge, Arctic Retreat, Sapmi Nature Camp, Icehotel
- 7 days / 6 nights
- Full board
- Northern lights hunt each evening

Join us on this fantastic and very exclusive Autumn tour where up to 6 people along with our professional aurora guide and photographer cross Swedish Lapland from coast to mountain in search of the Northern Lights.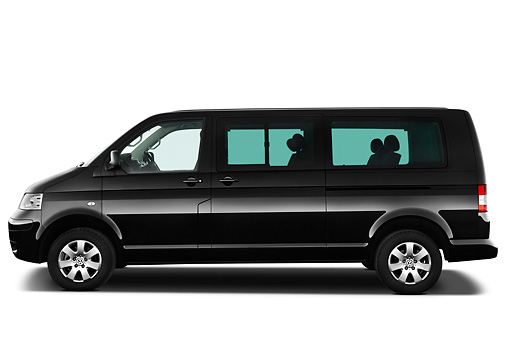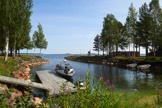 Day One
After arrival at Luleå airport and your
guided transfer to Brändön Lodge
.
Brändön Lodge is located just north of Luleå on the coast of Swedish Lapland and is a fantastic place to view the northern lights. It has a great view to the north with a low horizon and few artificial lights. It is also a great place to stay being small scale and very personal. Each of the 15 cabins at Brändön Lodge has two bedrooms with 2 single beds in each room. In one room the two single beds can be joined into a double bed on request. The cabin has a bathroom and small kitchen. The front of the cabin includes a balcony and all cabins have a view over the sea. In the main log timber lodge building is a relaxation lounge, bar and restaurant.
The first afternoon is well spent getting to know us and relaxing. A delicious
2 course dinner
awaits you in the restaurant in the evening. After dinner your guide will take you on a
northern lights hunt
along the archipelago coast.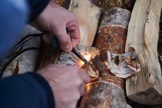 Day TwoDay Two
Closeness to nature is part of our daily life and today we will spend some time together discussing the forest and the nature that surrounds us. We will give you some tips on how to live and stay safe in the arctic region in our
Nordic Wilderness Skills
activity, that includes lunch, and look for tracks and signs from the variety of wildlife that lives in the area. In the afternoon, you can relax, take a walk or consider one of the many
optional activities
available.
Dinner this evening will be in the restaurant before we head out on a guided walk to look for and hopefully photograph the northern lights.
After retiring to your cabin at Brändön Lodge you should of course keep a lookout for northern lights later in the evening.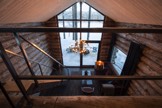 Day Three
Today we will enjoy a
guided tour via the Gammelstad World Heritage Village
on our way to Arctic Retreat.
Arctic Retreat
is a beautiful and very small scale log cabin retreat on the banks of the Råne River. Here you will check into one of the three cabins and enjoy a fantastic outdoor lunch and later on dinner in their small log cabin restaurant. In the afternoon we will take a
hike through the local forest along the river
where there are opportunities for nature and wildlife photography. In the evening we will be out on the
hunt for the northern lights
.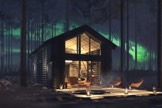 Day Four
On our second day at Arctic Retreat we will spend the day on one of several optional activities including mountain biking, sea kayaking, whitewater rafting or canoeing.
Lunch and another fantastic dinner are again included and in the evening we will take a
northern lights tour
to try and find interesting foregrounds and back grounds to capture or even just view the aurora.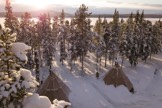 Day Five
Our guide will meet the guests at the Arctic Retreat at approximately 0900 for the two-and-a-half-hour drive to
Sapmi Nature Camp.
We will arrive about midday and send the rest of the stay settling in and getting to know Lennart, our Sami host, and moving in to one of five well appointed "glaring" style Teepee tents. In the afternoon you will join Lennart exploring the Laponia world heritage area around the camp and taking a deep dive into Sami history and culture and learning a great deal about their long history with the region and the reindeer. These days are by their very nature flexible as much depends not the weather and exact time of the season. Lennart is also an accomplished
northern lights photographer and he will take you out to hopefully view or photo the lights
in this remote area with little or no electric lights in any direction.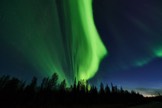 Day Six

Waking to a new day by the Luleå river and after enjoying breakfast we will transfer to the Icehotel.
The
ICEHOTEL
is Sweden's most iconic and famous hotel and located in the small village of Jukkasjärvi near the town of Kiruna. It is also the original hotel of its type (1989) and remains the very best due to the quality of its art, activities, size, facilities, food and service. The icehotel is no longer just winter hotel made of snow and ice.

Traditionally the
ICEHOTEL
's 400 tons of ice melt back into the Torne River each spring, However, In 2017 the Icehotel went to a new level and 21 of its rooms are now available all year round.

It is by day one, now at any time of the year, of Sweden's largest art galleries and a great percentage of its rooms are worthy of any gallery in the world.

Here you will check in for your night in a warm hotel room or if you are a little more adventurous you can upgrade and sleep at -5 degrees in one of the all year round Art suites or Deluxe suites.
This evening we have arranged a
northern lights hunt in the region
. Our guide explains how the northern lights appear, what causes it and the folklore around the phenomenon. We will be making a few stops to take pictures, so bring your camera!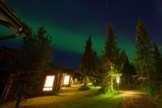 Day Seven
Depending on your time of departure you will have part of this morning to relax and enjoy the lodge before we unfortunately bid you a fond farewell. Your transfer will be arranged at a suitable time to take you to the Kiruna airport or train station for your journey home.