Coast to Mountains - Aurora & Sami Culture Experience
-
Brändön Lodge
,
Sapmi Nature Camp
,
Icehotel
- 6 nights
- Full board
This itinerary has a focus on the best places for northern lights and northern lights activities most evenings. We have of course included the Icehotel as we think this is a must do winter experience in Swedish Lapland.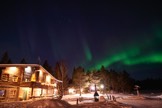 Day one
After arrival at Luleå airport and your guided transfer to Brändön Lodge the first afternoon is well spent getting to know us, selecting your warm winter clothing and relaxing. A delicious 2 course dinner awaits you in the restaurant in the evening. After dinner our guides will take you out on the frozen sea in a sled towed by a snowmobile on a northern lights hunt in the archipelago.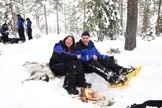 Day two
Closeness to nature is part of our daily life and today we will spend some time together discussing the forest and the frozen sea and the nature that surrounds us. We will give you some tips on how to live and stay safe in the arctic region in our Nordic Winter Skills activity, that includes lunch, and look for tracks and signs from the variety of wildlife that lives in the area. In the afternoon, you can relax, take a walk or consider one of the many optional activities available. Dinner this evening will be part of an outdoor activity where we head out on a guided snowshoe walk to look for and hopefully photograph the northern lights.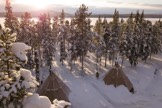 Day three
Our transfer guide will pick you up from Brändön Lodge at approximately 0930 for the 3 hour train and car transfer to Sapmi Nature Camp. You will arrive mid-afternoon and send the rest of the stay settling in and getting to know Lennart our Sami host and moving in to one of three Teepee tents. This stay is full board with 2 dinners, 1 lunch and 2 breakfasts.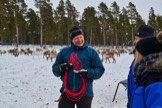 Day four

Today you will awake and join Lennart on a day out visiting the Reindeer herders in the region. These days are by their very nature flexible as it is not possible to predict in advance the location of the reindeer families or the reindeer. Lennart will ensure however that you go to the best possible place to meet them on the day.
This evening you will spend your second night in one of the Teepee tents at Sapmi Nature Camp.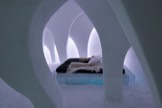 Day five
Waking to a new day by the Luleå river and after enjoying breakfast we will transfer to the Icehotel on a 3 hour road and train journey. Here you will check in for your first night in a warm Kaamos hotel room (and the second in an Art Suite or Deluxe Suite). This evening we have arranged a northern lights snowmobile safari. The best place to see it is in the wilderness, away from artificial light and the snowmobile is a great way to get around. Our guide explains how the northern lights appear, what causes it and the folklore around the phenomenon. We will be making a few stops to take pictures, so bring your camera! A cosy dinner at a wilderness camp is included.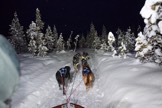 Day Six
Today we will have arranged for you a fantastic dogsledding experience. This 90-minute tour is perfect for novices. You ride as a passenger in the sled and experience the dogs tremendous desire to run and pull as you travel through the beautiful landscape of northern Lapland. Tonight we have arranged dinner in the hotel restaurant where you will experience their amazing 5 course ice menu. After dinner you can walk down to the river and relax and look for the northern lights before retiring to your Deluxe Art suite.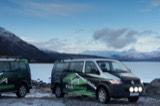 Day Seven
Depending on your time of departure you will have part of this morning to relax and enjoy the lodge before we unfortunately bid you a fond farewell. Your transfer will be arranged at a suitable time to take you to the Kiruna airport or train station for your journey home.