Brändön Lodge Winter Northern Lights
5 day 4 night break in winter at Brandon Lodge with a focus on the northern lights. Brändön Lodge is located just north of Luleå on the coast of Swedish Lapland overlooking the Bay of Bothnia and the 1250 islands of the Luleå archipelago. In the winter this is a frozen paradise with flat frozen sea covered with ice and snow. Your flight from Stockholm to Luleå takes just over one hour and we will be waiting to meet you.
Highlights/Inclusions
Full Board
Nordic Winter Skills
Aurora Photography
4 hour pack ice snowmobile tour
Northern Lights Sled Tour
Aurora Hideaway dinner
Opportunities for northern lights watching each evening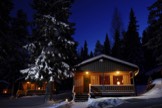 Day one
The first afternoon is well spent getting to know us, selecting your warm winter clothing and relaxing. A delicious 2 course dinner awaits you in the restaurant in the evening and after dinner we will give you tips on the best place to perhaps catch a glimpse of the northern lights later in the evening. If you are truly ready to wind-down then we recommend our optional sauna and hot tub under the stars while waiting for the aurora.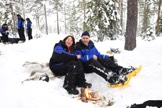 Day two
Closeness to nature is part of our daily life and today we will spend some time together discussing the forest and the frozen sea and the nature that surrounds us. We will give you some tips on how to live and stay safe in the arctic region in our
Nordic Winter Skills activity,
that includes lunch, and look for tracks and signs from the variety of wildlife that lives in the area. In the evening, after dinner, we will enjoy an
Aurora Photography course
where we give you so great tips for photographing the aurora.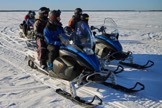 Day three
Waking to a new day by the sea and after enjoying breakfast we will prepare for our feature
4 hour nature focused archipelago adventure
that includes lunch. You will drive a
snowmobile
as we explore the frozen sea and islands of the archipelago. Out in the islands we will search for wildlife and the pack-ice formations. Dinner will again be the log cabin restaurant. In the evening we will join a
snowmobile sled northern lights tour
out into he darkness to hunt for the aurora.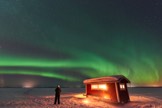 Day four
Free day, after several days with us you will be experts of the arctic lifestyle and we have left this day free for you to choose again one of your favourite activities or perhaps something new that has caught your eye such as ice fishing. We have included lunch and dinner and your accommodation of course. In the evening we will head out to a secluded location by snowmobile sled to enjoy the fantastic
Aurora Hideaway dinner.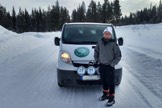 Day five
Depending on your time of departure you will have part of this morning to relax and enjoy the lodge before we unfortunately bid you a fond farewell. Your transfer will be arranged at a suitable time to take you to the airport or train station for your journey home.