Arctic Winter Wildlife Safari 8 nights
A exclusive experience for singles, couple or small groups with our own wildlife guide and photographer from Luleå on the Baltic Coast to Kiruna near the Swedish Mountains.

- Brändön Lodge, Treehotel, Sapmi Nature Camp, Icehotel
- 2-6 people
- High end luxury minibus transfers
- 9 days / 8 nights
- Twin share
- Wildlife activities most days
- Early Jan to the end of March

Join us on this fantastic and very exclusive Autumn tour where up to 6 people, along with our professional aurora guide and photographer, cross Swedish Lapland from coast to mountain in search of the the Arctic's wildlife and the Northern Lights.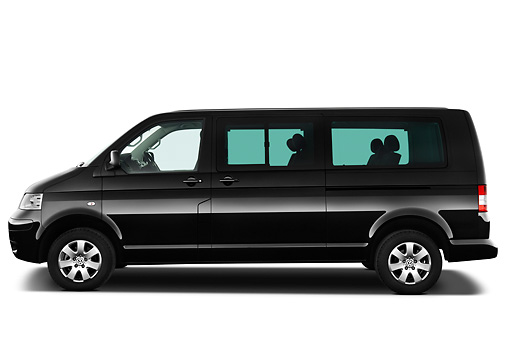 Day One
After arrival at Luleå airport and your guided
transfer to Brändön Lodge
the first afternoon is well spent getting to know us and relaxing in your timber cabin. Before dinner your nature guide will take you on an afternoon/evening
Moose Safari
for 2 hours. The forest Moose tend to move around at dusk and we will take a minibuss drive around the small local roads and trails with the hope of seeing and photographing these magnificent animals. Once the darkness has settled in we will keep our eye out for the aurora in the northern sky.
Dinner this evening is the special
Aurora Hideaway Dinner
.
A candle light dinner, somewhere out on the frozen arctic sea. This evening experience starts with a snowmobile sled transfer from your Lodge. On arrival at the Aurora Hideaway you will be introduced and offered a drink of your choice. Wine, beer or a warm drink. Your guide will then serve a hot steamy soup as your first dish. The stove in the Aurora Hideaway has a sparkling fire roaring and the candles and tealights creates a magic atmosphere. You now have a chance to go outside to look for the Northern Lights or just enjoy the absolute silence and the stars in the sky. The guide prepares the main course over the outdoor fire. A relaxed evening is finished off with dessert and tea/coffee before returning to your Lodge.
The Aurora Hideaways are small "restaurants" that we move around in the archipelago with our snow cat. We choose the best places possible depending on wind, weather and ice conditions for each evening's event.
. If conditions are right we may even be able to see the northern lights.
BRÄNDÖN LODGE
is located on the coast of Swedish Lapland. The hotel standard cabins overlook the sea and islands of the Luleå archipelago. With a total of 1,300 islands and only 100 residents it is a unique environment which is great for boating in summer and autumn. From December to April the sea around the island freezes up to a meter thick which is perfect for winter activities. The main building is a log cabin that includes a restaurant and a lounge and relaxation area. Surrounding the main building are 15 cabins overlooking the sea. Each cabin has been recently renovated and includes 1 one bathroom, two bedrooms with 2 single beds in each room, a lounge room and a front facing covered porch. The single beds in one room can be made up to a double.

Day Two
Closeness to nature is part of our daily life and today we will spend some time together discussing the forest and the nature that surrounds us on our
Nordic Winter skills
experience (which includes lunch). We will give you some tips on how to live and stay safe in the arctic region, with a focus on the Baltic Coastal environment in and look for tracks and signs from the variety of wildlife that lives in the area.
This evening, a two course dinner will be served in Brändön Lodge's restaurant.
Later in the evening we head out on a
guided snowmobile sled tour
to look for the northern lights. You will sit comfortably and warm, perhaps under a cozy blanket, in a 6-8 person sled which will be towed by the guide and his snowmobile. You will head out on to the frozen sea around the islands to a location that is long away from artificial lights and enjoy a tea or coffee while looking for the lights.

Day Three
After breakfast and check out our guide will meet you at Brändön Lodge for the one hour guided tour to the Treehotel. On the way we will visit the
World Heritage Gammelstad Church village
and enjoy morning tea (Fika) Wherever possible we will take the forest roads and keep our eye out for wildlife along the way.
Lunch will be served at Treehotel soon after check in and in the afternoon you are welcome to choose on of the optional activities.
At Treehotel the hospitality and the food are an equal match for the amazing tree rooms. This evening a delicious 3 course dinner will be in the restaurant.
Tonight we will again be out on a hunt for the northern lights with our
aurora guide for 2 hours.
The
Treehotel
offers you a unique hotel experience: tree-rooms with contemporary design in the middle of unspoiled nature. Here you can forget about the time constraints of everyday life, enjoy the serenity and rejuvenate in a sophisticated yet familiar environment. Treehotel is located in Harads, about 70 km from Luleå Airport. When you arrive at Treehotel, you first check in at the Guesthouse. Then it's a short stroll through the beautiful nature to your tree-room. From Treehotel's rooms you get a fantastic view of the Lule River Valley, miles of forest and the powerful river. Breakfast is included in the room price and along with other meals they are available at the Guesthouse. Britta and Kent, the owners of Treehotel, have built a modern hotel with the best of Swedish style and design. They are also known for their warm and cosy atmosphere, their hospitality and most importantly the glorious cuisine.

Day Four
On our second day at Treehotel we will go on an
Eagle spotting experience for 5-6 hours
.
We will travel to the hide by snowmobile, with a four-seater sled, sheltering passengers from snow and wind. We look for eagles from inside our log cabin hide which will already be warm and cozy when we arrive. Your guide is a local nature expert who will give you a great deal of knowledge about the local forest and its wildlife. The hide has kitchen, beds, indoor toilet and comfortable chairs. The experience includes light lunch, snacks and warm and cold drinks.


Dinner tonight will be in the Treehotel Restaurant.
There are few artificial light at the Tree room and tonight you will be able to look for the northern lights from the area around your hotel room.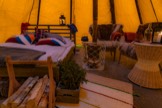 Day Five

Our transfer guide will meet you at the Treehotel at approximately 0900 for the two-and-a-half-hour drive to Sapmi Nature. We will take a little longer however as we stop in Jokkmokk to visit the Ajtee Sami and Mountain museum and do some shopping at the art and craft shops in town. We will arrive mid-afternoon and send the rest of the stay settling in and getting to know Lennart, our Sami host, and enjoying dinner before sleeping overnight in to one of five Teepee tents. Out here in the Laponia World Heritage area the light pollution is virtually non existent making it a great place to see the aurora.
Sápmi Nature Camp
is a newly opened, high-end, sustainable and small-scale camp that offers high quality, close to nature accommodation on the border of Laponia World Heritage Area.
In 1996, Laponia was inscribed on the World Heritage List by the UN body UNESCO. That means the area is important for the whole world to care for and protect. Its selection is based on the combination of unique nature and the cultural values present in Laponia. The area bears traces of the Earth's early history but also of mankind's. The landscape has been formed in interaction with a living Sámi tradition where reindeer herding has been pursued for a long time.
The camp consists of newly built 'double' rooms in the form of lavvu tents (that looks like a tepee) furnished with comfortable double beds, stoves and cosy furnishings inspired by nature and the Sami culture. The base experience includes accommodation and full board and the guests then choose the nature of the activities they would like to enjoy.

Lennart grew up in a reindeer herding family here in Unna Tjerusj Sami community. This is grazing land that has been used by Unna Tjerusj for thousands of years. Sápmi Nature is committed to responsible tourism that does not threaten the reindeer and the herding here, but instead we want to share our knowledge about Sami life – both past and present.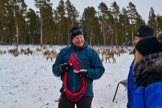 Day Six
Because this is a small-scale, sustainable business, there are only between 2-10 guests here at the same time. This is far from a large-scale resort. It is personal, comfortable and convenient Sámi experience and you have the chance to really learn about the Sami culture.

In the afternoon
we will take a rare excursion into the daily life of reindeer herding.

Lennart's brother Kenneth has the main responsibility for the day to day reindeer herding and one of the popular activities at the camp is to take a drive to the location of the reindeer herd where we find Kenneth and his family.
Kenneth's family including sons and daughter spend their year taking care of the reindeer and depending on the time of year and even the day you visit. The form the experience takes will therefore always be unique. On meeting Kenneth you will really enjoy his fun and laid back approach but keep in mind they are welcoming you into their workplace on a normal working day. During your visit they will take you through the year and seasons in Sapmi and how the changing world and climate is affecting their life.

Dinner each evening comes from the nature and are most often foraged, hunted or fished by Lennart himself. Local meats such as Moose or Reindeer and fish such as trout or arctic char are commonly on the menu and are complemented with local berries, herbs and vegetables.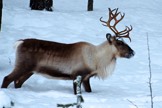 Day Seven
Waking to a new day by the river and after enjoying breakfast we will transfer to the Icehotel. The entire journey from Sapmi Nature to the Icehotel has chances for scenic stops and wild life spotting with chances to see reindeer, Moose, Fox and a wide variety of birdlife. We will of course stop at any opportunities to see Wildlife.
At Icehotel you will check in for your first night in a warm Kaamos hotel room and then enjoy lunch in the Icehotel restaurant.
After lunch is a
dogsled ride in the winter wonderland
.
Experience the beautiful winter wonderland from the dog sled. This is a perfect activity for families travelling with kids or you who want a calm and cozy tour. On this tour you ride as a passenger in the sled and experience the dogs tremendous desire to run and pull. Your stop along the way for wilderness coffee and cake, served by an open fire.
Dinner is available at the guests own cost in one of the two restaurants at Icehotel.
The
Icehotel
is Sweden's most iconic and famous hotel and located in the small village of Jukkasjärvi (blue flag in the map below) near the town of Kiruna. It is also the original hotel of its type (1989) and remains the very best due to the quality of its art, activities, size, facilities, food and service. The icehotel is not just a hotel made of snow and ice. It is by day one of Sweden's largest art galleries and a great percentage of its rooms are worthy of any gallery in the world. The hotel also boasts two types of warm 2 bedrooms cabins as well as hotel rooms. Traditionally the hotels 400 tons of ice melt back into the Torne River each spring, However, In 2017 the Icehotel went to a new level of innovation and 21 of its rooms are now available all year round making a visit to Swedish Lapland in Summer and Autumn even more spectacular. This development also added Deluxe suites that have their own large warm bathroom attached. Perfect for those who like a little extra comfort.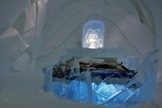 Day Eight
Today you will join the Icehotel's
Arctic Wildlife Safari
which is another change to find animals and birds in the high latitude region.
Along with a local guide, and on a snowmobile, this tour takes you through a magnificent mountain scenery. Learn about the wild animals native to this region, how the moose affects the climate here and tracking them, as well as reindeer and grouse. Incl. transfer and lunch with local ingredients.

Tonight we have arranged dinner in the hotel restaurant where you will experience their amazing 5 course ice menu. After dinner you can take a walk down along the river and look for the northern lights before retiring to your Kaamos hotel room.
You might also consider upgrading to a cold Art suite or Deluxe suite. - 5 degrees an experience not to be missed!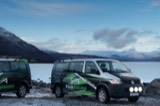 Day Nine
Depending on your time of departure you will have part of this morning to relax and enjoy the lodge before we unfortunately bid you a fond farewell. Your transfer will be arranged at a suitable time to take you to the Kiruna airport or train station for your journey home.
Available on request from early January to mid March. The tour can be tailored to suit a group of 4 or 6 peoples needs. Note that there is not guarantee of seeing wildlife or northern lights / Aurora on any of the tours or activities and that no refund is available if the wildlife or northern lights do not appear.
Customer prices:

We tailor programs at at these programs to your specific requests. Please contact us to discuss a program just for you.


Note that:

Please review our booking terms at
https://www.travelco-swedishlapland.com/terms.html
and our privacy policy at
https://www.travelco-swedishlapland.com/privacy-policy.html
TravelCo in Swedish Lapland AB

Småbåtsgatan 1, 1TR, 972 35 Luleå Sweden

Ph. +46 (0) 70 544 7147
Bookings:
booking@travelco-swedishlapland.com