Arctic Summer Family Safari - 8 nights
An exclusive experience for small family groups with our own wildlife guide and photographer from Luleå on the Baltic Coast to Kiruna near the Swedish Mountains.

- Brändön Lodge, Treehotel, Hide and See, Arctic Retreat, Icehotel
- 4-6 people
- High end luxury minibus
- 9 days / 8 nights
- Wildlife activities each day
- Late June through early August
- Recommended children's ages are 6 and up.

Join us on this fantastic and very exclusive Summer tour where up to 6 people, along with our professional guide and photographer, cross Swedish Lapland from coast to mountain in search of the Arctics amazing summer experiences.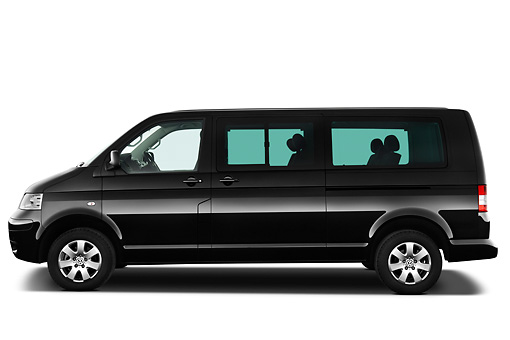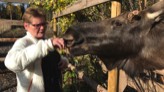 Day One
After arrival at Luleå airport and your guided transfer to Brändön Lodge. On the way we will stop at the
local moose park
to meet some of their fantastic wildlife. The Moose Park as two moose in a forest area and your private guide will introduce you to them and feed them some of their favourite snacks.
At Brändön Lodge the first afternoon is well spent getting to know us and relaxing in your 2 bedroom timber cabin. A delicious 2 course dinner awaits you in the restaurant in the evening. After dinner, keeping in mind it is light 24 hours a day at this time of year, your guide will take you on an evening
hike/walk
in where you will learn about the 1300 plus islands of the archipelago and our unique arctic environment.
Fishing gear is available
if the family would like to throw a line or the family may choose to go swimming at Brändön's lovely beach.
Brändön Lodge
is located on the coast of Swedish Lapland. The hotel standard cabins overlook the sea and islands of the Luleå archipelago. With a total of 1,300 islands and only 100 residents it is a unique environment which is great for boating in summer and autumn. The main building is a log cabin that includes a restaurant and a lounge and relaxation area. Surrounding the main building are 15 cabins overlooking the sea. Each cabin has been recently renovated and includes 1 one bathroom, two bedrooms with 2 single beds in each room, a lounge room and a front facing covered porch. The single beds in one room can be made up to a double.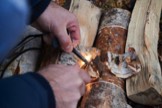 Day Two
Closeness to nature is part of our daily life and today we will spend some time together discussing the forest and the nature that surrounds us on our
Nordic
wilderness skills
experience. We will give you some tips on how to live and stay safe in the arctic region. Lunch will be cooked in the outdoors by your guide and on our way back we will focus on the Baltic Coastal environment and look for tracks and signs from the variety of wildlife that lives in the area. In the afternoon, you can relax, take a walk or consider one of the many optional activities available. Dinner this evening will be 2 courses at the log cabin restaurant.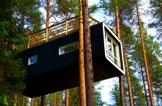 Day Three
Our guide will meet you at Brändön Lodge for the one hour guided tour to the Treehotel. On the way we will visit the
World Heritage Gammelstad Church village
. Wherever possible we will take the forest roads and keep our eye out for wildlife along the way.
The
Treehotel
offers you a unique hotel experience: tree-rooms with contemporary design in the middle of unspoiled nature. Here you can forget about the time constraints of everyday life, enjoy the serenity and rejuvenate in a sophisticated yet familiar environment. Treehotel is located in Harads, about 70 km from Luleå Airport. When you arrive at Treehotel, you first check in at the Guesthouse. Then it's a short stroll through the beautiful nature to your tree-room. From Treehotel's rooms you get a fantastic view of the Lule River Valley, miles of forest and the powerful river. Breakfast is included in the room price and along with other meals they are available at the Guesthouse. Britta and Kent, the owners of Treehotel, have built a modern hotel with the best of Swedish style and design. They are also known for their warm and cosy atmosphere, their hospitality and most importantly the glorious cuisine.
At Treehotel the hospitality and the food are an equal match for the amazing tree rooms. In the afternoon you will join a local guide
looking for the moose and other wildlife in the nearby forest.
Before dinner you will join
Eva Gunnare,
culture guide, food connoisseur
and specialist in local wild herbs and berries on a
treasure hunt
Eva has a passionate way of sharing her life through stories, flavours and songs. During this family tour she wants you to find and learn more about all the local wild flavours in the area in a fun way. We have a short walk through the pine and birch forest to the meadows, searching for the plants (some of them under the snow if you take part of this activity in the wintertime). Eva's basket is filled with hot and cold drinks, small jars filled with dried herbs and many tasteful bits. Then a special "fika" is waiting for you in the warm restaurant with more of Eva's treats she has made from her foraged treasures. Eva has lived with the reindeer herders for many years and experienced the traditions from having a life close to the nature. In this tasty and fun tour she wants
Lunch
and
dinner
in the Treehotel's fantastic restaurant are included.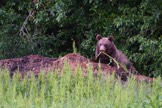 Day Four
On our second day at Treehotel you have the choice of some great optional activities.
In the early evening, after dinner, will go on an overnight stay at
Hide and See to watch for bears
. According to old folk tales, the bear awakens and leaves its den around mid-April. In the area we will also find foxes, martens, raccoon dogs, forest birds and breeding golden eagles. The tour starts with a meal at Treehotel before heading out to the hide. During the night, snacks
and beverages will be served and each guest has their own photo opening and window, separate photo tables and height-adjustable chairs with footrests. The hide has an indoor bathroom and 6 beds. We have breakfast together in the morning and we leave around 10:00 on day 2 Lunch and dinner are included.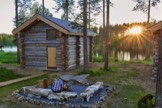 Day Five

This morning we will take a guided transfer about one hour north to a small lodge called
Arctic Retreat
Is a small scale and very personal lodge experience owned and operated by a young local family in the village of Överstbyn about 1 hours drive north west of Luleå. Here, on the banks of the Råne River you will experience life in Swedish Lapland with a local family as well as amazing log cabin accommodation to hotel standard in a beautiful forested river side setting The experience is genuine in all aspects - from materials used, food served to the local people involved in the stay.
In the afternoon we have arranged a
canoeing activity called Canoeing in Beaver land
.
Along with with experienced guide you will paddle in a canoe on the river's scenic and quieter parts and make a visit to the beavers' habitat. By staying low-key, you can get close to these shy animals. Giving you a new perspective of the river and the forest. Did you know that this hard-working animal can fell trees with a diameter of as much as 50 centimetres in just one night? Along the way we will stop for coffee/tea and a sandwich. There are good chances to see beaver and other wildlife such as birds, moose and maybe reindeer. Duration 4 hours including lunch.

A 3 course Dinner and a beautiful evening looking out at the river views await you back at Arctic Retreat.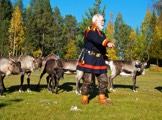 Day Six
Today at Arctic Retreat we will visit a local
Sami Family.
After a transfer of about 40 minutes to Flakaberg along the Råne River valley. We will visit the Eriksson Sámi family. Lars Eriksson will introduce you to the reindeers and tell stories about the Sámi life in history and well as today. A typical lunch with a desert will be served in a small cabin. This is a great opportunity to experience the interesting life and history of the forest Sámi culture. Duration 4 hours with lunch and transfers.

A delicious 3 course Dinner and a beautiful evening looking out across your river views await you back at Arctic Retreat.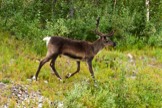 Day Seven
Waking to a new day by the river and after enjoying breakfast we will transfer to the Icehotel. The entire journey from Arctic Retreat to the Icehotel is a
wildlife spotting tour
with chances to see reindeer, Moose, Fox and a wide variety of birdlife.
The
Icehotel
is Sweden's most iconic and famous hotel and located in the small village of Jukkasjärvi (blue flag in the map below) near the town of Kiruna. It is also the original hotel of its type (1989) and remains the very best due to the quality of its art, activities, size, facilities, food and service. The icehotel is not just a hotel made of snow and ice. It is by day one of Sweden's largest art galleries and a great percentage of its rooms are worthy of any gallery in the world. The hotel also boasts two types of warm 2 bedrooms cabins as well as hotel rooms. Traditionally the hotels 400 tons of ice melt back into the Torne River each spring, However, In 2017 the Icehotel went to a new level of innovation and 21 of its rooms are now available all year round making a visit to Swedish Lapland in Summer and Autumn even more spectacular. This development also added Deluxe suites that have their own large warm bathroom attached. Perfect for those who like a little extra comfort.
At Icehotel you will check in for your first night in a warm Kaamos hotel room or 2 bedroom cabin.
We have arranged for you a private guided tour of the year round icehotel and an hour or so will be filled with fun viewing the wonder if the art suites.
Lunch and dinner is available at the guests own cost in the Icehotel restaurant.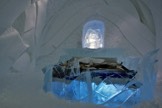 Day Eight
Today you will join the Icehotel's
Wildlife and Nature Photography tour
which is another change to find animals and birds in the high latitude region.
Photograph wild animals and beautiful landscapes during a day outdoors. The tour begins at ICEHOTEL where a photo guide from Scandinavian Photoadventures picks you up. Together you take a minivan out in the nature and start with familiarizing yourself with the camera and practice taking pictures. When you feel comfortable with the camera you head out in search for exciting objects to photograph. The northernmost part of Sweden has eight seasons and you choose the photo object depending on weather and time of year. Nature is filled with arctic animals like moose, reindeer, and birds, and your guide will help you capture them and the wonderful surroundings on camera. The tour ends with a cup of coffee or tea served by an open fire in the wilderness before returning to ICEHOTEL.

Tonight we have arranged dinner in the hotel restaurant where you will experience their amazing 5 course ice menu.
There is still time for a walk along the river under the midnight sun before retiring to your Kaamos hotel room or 2 bedroom cabin. You might also consider this evening choosing and Art suite or Deluxe suite. Sleeping in - 5 degrees is an experience not to be missed!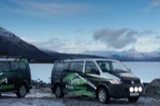 Day Nine
Depending on your time of departure you will have part of this morning to relax and enjoy the Icehotel before we unfortunately bid you a fond farewell. Your transfer will be arranged at a suitable time to take you to the Kiruna airport or train station for your journey home.
Available on request from late June to early August. The tour will be tailored to suit a group of 4 or 6 peoples needs. Note that there is not guarantee of seeing wildlife on any of the tours or activities and that no refund is available if the wildlife do not appear.
Customer prices:

We tailor programs at at these programs to your specific requests. Please contact us to discuss a program just for you.


Note that:

Please review our booking terms at
https://www.travelco-swedishlapland.com/terms.html
and our privacy policy at
https://www.travelco-swedishlapland.com/privacy-policy.html
TravelCo in Swedish Lapland AB

Småbåtsgatan 1, 1TR, 972 35 Luleå Sweden

Ph. +46 (0) 70 544 7147
Bookings:
booking@travelco-swedishlapland.com